SunSirs: Agriculture, Accelerating the Progress of Sugar Crushing
January 06 2020 10:34:33&nbsp&nbsp&nbsp&nbsp&nbspSunSirs (Daisy)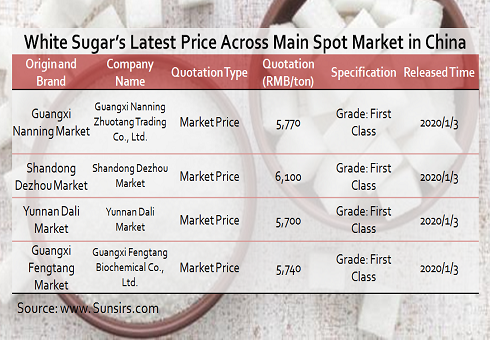 1. Price Trend
According to data from SunSirs, the price of white sugar rose slightly this week. The average price of first-grade white sugar at the beginning of the week was 5,820 RMB / ton, and the average price of first-grade white sugar at the weekend was 5,840 RMB / ton, and the price rose 0.34%.
2. Market Analysis
Domestic: At present, sugar beet sugar is gradually being squeezed in the north, and sugar cane crushing in the south has reached a peak. The domestic sugar supply and inventory are accelerating recovering simultaneously.
Up to the end of November, China's sugar industry inventory was 700,400 tons, which was a large increase of about 440,000 tons, and also recorded a high of nearly 6 years.
At the same time, the General Administration of Customs data shows that China imported 330,000 tons of sugar in November, a slight decrease year-on-year. But from January to November, China imported 3.18 million tons of sugar, an increase of 530,000 tons, and an increase of 20%.
Demand: Although it is currently entering the peak season of preparation for the Spring Festival, the downstream procurement is generally intensive. And spot quotes are constantly falling.
Up to December 24, the spot contract price of willow sugar fell from 5,780 RMB / ton at the beginning of the month to 5,660 RMB / ton, a decrease of 120 RMB / ton.
At present, the price has stabilized slightly, and some manufacturers still continue to reduce their offers. From this point of view, the demand season is not busy and it is difficult to form a strong support for sugar prices.
International: Brazil's hedging volume has steadily increased to 5.48 million tons, accounting for 28% of the export volume in the next crushing season.
However, Brazil's exportable sugar is expected to increase by 1.3 million to 16.5 million tons in 2020, adding about 9.7 million tons of Thailand and about 5 million tons of India's exports. The cumulative export volume of the three major exporting countries may reach 31.2 million tons.
3. Market Forecasting
SunSirs sugar analysts believe that the domestic market consumption is weakening, while the supply continues to increase. Coupled with the reserve sugar and imported sugar processed into the market, the domestic sugar market supply and demand weak pattern continues, Zheng sugar prices rose weak.
If you have any questions, please feel free to contact SunSirs with support@sunsirs.com
Agricultural & sideline products