SunSirs: Silicomanganese prices rose sharply in April due to South Africa blockade
May 06 2020 15:16:19&nbsp&nbsp&nbsp&nbsp&nbspSunSirs (Molly)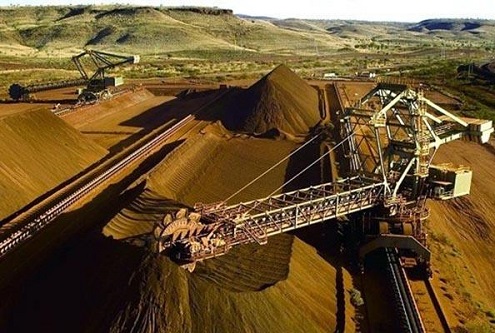 1. Price Trend
According to SunSirs price monitoring, the price of manganese silicon has risen this month, and the current price is basically between 7000-7100 yuan / ton, which is 600-700 yuan / ton higher than last month. At present, the ex-factory price of manganese silicon 6818 in Ningxia is around 7100 yuan / ton, which is about 500 yuan / ton higher than the price at the beginning of the month. The highest price point appears at around 7150 yuan / ton at the end of the month, and the lowest point appears in the middle of the month, at a price of about 6,500 yuan / ton.
2. Analysis of influencing factors
In early April, the bidding price of Hegang Group 's manganese-silicon was set at 6,600 yuan / ton, which was significantly lower than the previous expectation, which hurt the confidence of the industry, and the factory resumed production. Weakening, some companies began to rationally call back.
However, on April 9, the South Africa blockade time was extended by 14 days. Futures rose wildly to the daily limit, the market inquiry purchase was obviously active, and the price of manganese silicon surged again.
The price of manganese ore increased steadily in mid-April, and the external disk quotations increased significantly. The spot price of manganese ore in the port entered a strong upward trend or closed.
The price of manganese silicon steel in April was lower than expected
Hebei Iron & Steel Group announced its April pricing: 6600 yuan / ton, an increase of 700 yuan / ton, (March price: 5900 yuan / ton, April 2019 price: 7850 yuan / ton) Silicon manganese production: 18300 tons, This is 1,380 tons less than in March 2020.
The purchase price of silicon manganese alloy of a steel plant in Guangdong in April was 6700 yuan / ton, which was 580 yuan / ton higher than last month, and the purchase quantity was 9,000 tons;
The purchasing price of silicon manganese alloy of Yangchun Iron and Steel in April was 6600 yuan / ton, and the purchase quantity was 4000 tons
In April, a steel plant in Hunan purchased silicon manganese alloy at a price of 6630 yuan / ton, and the quantity purchased was 5000 tons.
Hunan Xiangtan Iron and Steel Group's silicon manganese standardization was 6,700 yuan / ton in April, an increase of 550 yuan / ton from March, and the purchase volume was 8,000 tons, a decrease of 1,000 tons from March.
Manganese ore transaction prices are rising
Since April, the manganese ore market has been represented by Tianjin Port. The transaction prices have been increasing, and the Qinzhou Port has followed small steps, but the market transaction activity has been low. The upward trend of manganese ore remains unchanged, with a strong willingness to rise. At present, the downstream alloy manufacturers still have difficulty in accepting the spot price of manganese ore. In a state of pricelessness, there is insufficient downstream support.
In terms of manganese ore outer disks, Kang Mi Lao's shipping price was introduced in May: Among them, Gabon block Mn44.5% was priced at US $ 5.55 / tonne, an increase of US $ 1.4 / tonne from April prices; Gabon seed Mn43% was priced at US $ 5.4 / tonne ; Price increase by 1.34 USD / ton degree compared with April.
UMK introduced Mn36% South Africa's quotation for shipment of manganese ore from China to June to July at US $ 6.98 / tonne, up US $ 2.38 / tonne from the April offer price
Tshipi Borwa manganese mine restarts operations from May 1
According to recent news from the market, Jupiter Mines Limited ("Jupiter") issued an announcement that the South African government has announced that all open-pit mines in South Africa will start operations at 100% from May 1, 2020, including Tshipi Borwa Manganese ore.
Tshipi management will continue to coordinate with all parties to fully resume normal operations and start exporting. Tshipi also complies with all South African government directives and has established strict screening and testing procedures and updated standard operating procedures related to Covid-19 and mines.
Downstream: Tangshan limited production upgrade and some steel plants limited production by 30-50%
It is reported that Tangshan's air quality ranking has returned to the national bottom 10, and Tangshan will add environmental protection and production restriction measures from now on. Some manufacturers said that the scope of the implementation of this production limit measure is about 30% -50% of the production limit of enterprises within 25 kilometers of the urban area. At present, some steel mills have received relevant oral notices, and no official documents are available. Affected by the news of restricted production, the sales of Tangshan Strip have improved.
3. Future market forecast
On the whole, the bidding form of steel mills in May was better, and the bidding price of manganese silicon in May of Hegang Group was finally set at 7,500 yuan / ton. The market direction was clear and the overall demand was released. At the same time, South Africa's manganese mine will also restart in May, and the business community expects that the short-term price of manganese and silicon will not fluctuate greatly, or it will be slightly lowered and return to rationality.
If you have any questions, please feel free to contact SunSirs with support@sunsirs.com
Agricultural & sideline products