SunSirs: The rise and fall of styrene butadiene rubber(SBR)
January 08 2020 16:39:46&nbsp&nbsp&nbsp&nbsp&nbspSunSirs (Molly)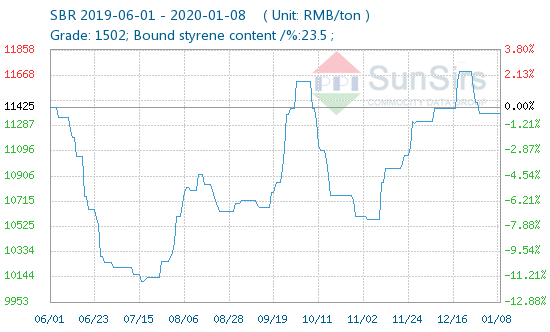 Product name: styrene-butadiene rubber 1502
Latest price (January 8) : 11380 yuan/ton
Analysis key points:
Today (January 8) the domestic market price of styrene-butadiene rubber is stable. According to theSunSirs monitoring, today the petrochemical butadiene rubber factory price is stable, Sinopec north China sales company Qilu butadiene 1502 reported 11100 yuan/ton, Qilu 1712 reported 9900 yuan/ton, north China factory price. China produced 665,000 tons of synthetic rubber in November, up 7.3% from a year earlier, the latest data from the national bureau of statistics showed on Dec. 17. The total output from January to November was 6.399 million tons, up 5.5% year on year. In November 2019, the output of rubber tires was 72.467 million, up 3.3 percent year on year. From January to November, the output of rubber tires was 767.609 million, up 2.2 percent year on year.
Future forecast:
At present, the price of raw material butadiene is low, and the output of downstream tires is slightly decreased compared with the previous year, which forms a certain support for styrene-butadiene rubber. It is expected that the price of styrene-butadiene rubber will consolidate in a narrow range in the later period.
If you have any questions, please feel free to contact SunSirs with support@sunsirs.com.
Agricultural & sideline products