SunSirs: In early April, the Demand for Chinese Cotton Yarn was Weak and the Price Fell Slightly
April 13 2021 08:20:23&nbsp&nbsp&nbsp&nbsp&nbspSunSirs (Linda)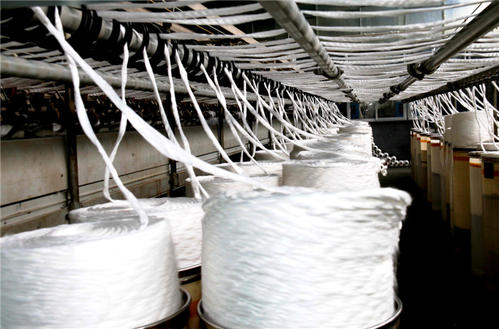 As of April 12, the average ex-factory price of rayon yarn (30S, ring spinning) in Shandong was 19,500 yuan/ton, a decrease of about 200 yuan/ton or 1.01% from the price in early April. The rayon yarn market in April failed to continue the stability of March, the price fell overcast, the market was weak, the transaction was light, and some companies showed signs of making profit. The upstream viscose staple fiber performed steadily and weakened, with the mainstream price at 15,800 yuan/ton. Downstream purchase willingness of rayon and cotton has declined and demand has been weak, mainly due to the consumption of inventory.
Finished rayon yarn inventory: In the first quarter of 2021, the number of rayon yarn ending inventory days reached 12.2 days, and the inventory is still increasing. The current inventory level has exceeded the same period last year.
The operating rate of the rayon yarn industry: 85% at the end of the first quarter, and the May 1st holiday in the second quarter. Under the premise of weak market demand and high upstream viscose staple fiber costs, the rayon yarn industry may start to operate or passively decline.
Decrease in viscose staple fiber orders held by rayon yarn: Although the number of days for viscose staple fiber held by rayon yarn is higher than the same period last year, it has gradually declined. According to this rhythm, it is expected that the market will have viscose staple fiber around May 1st. Certain rigid stocking requirements.
Upstream viscose staple fiber market
According to historical data, the price of viscose staple fiber is at a high level. According to the price monitoring of the business agency, as of April 9, 2021, the average ex-factory price of 1.2D*38mm viscose staple fiber in domestic areas is 15,720 yuan/ton, compared with 3 It was down 140 yuan/ton at the end of the month. According to the survey, the price of viscose staple fiber rose from 8,300 yuan per ton in August last year to nearly 16,000 yuan per ton at the beginning of the year. The price of viscose staple fiber has nearly doubled in more than half a year. Especially after the year, the price has soared all the way, from 12,900/ton in early February to 15,800/ton, an increase of 22.5%. Since March, prices have gradually stabilized.
New orders for rayon yarn are general, inventory has increased, the cost of raw viscose staple fiber is at a high level, and the purchase of raw materials is mostly based on demand. The viscose and rayon yarn market has entered a price stalemate stage. It is expected that the rayon yarn will weakly decline in the later period.
If you have any questions, please feel free to contact SunSirs with support@sunsirs.com.
Agricultural & sideline products