SunSirs: Market Enters a Busy Season, China's Cocoon Silk Prices Continue to Pick up
March 11 2021 09:25:51&nbsp&nbsp&nbsp&nbsp&nbspSunSirs (Linda)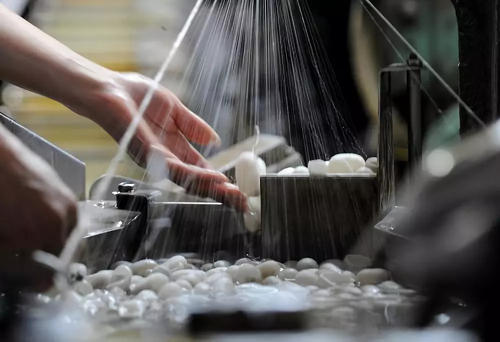 Since March, the domestic cocoon silk market has continued to pick up at a firm high level, and market confidence has further recovered. As of March 10, the average market price of dry cocoons was 116,500 yuan/ton, up 3.56% from the beginning of the month and down 2.22% year-on-year; the average price of raw silk in the market was 359,000 yuan/ton, up 2.87% from the beginning of the month, down 3.21% year-on-year.
Silkworm chrysalis market quotations, the domestic market is currently in a period of chrysalis production. Before the spring cocoons are listed, large and small businesses with stock will ship them. Basically, they will be purchased on the same day and the price is basically stable. The loading price of fresh pupae in Guangxi and Guangdong factories: A-level 12,000 yuan/ton, B-level 11,500 yuan/ton, and C-level 9500-11,000 yuan/ton. The loading price of dry and wet pupae in Guangxi factory: A grade 5800 yuan/ton, B grade 5300 yuan/ton, C grade 4500 yuan/ton. The overall purchases in the Southeast Asian market are stable. In Thailand, due to the approaching of the Songkran Festival, customers are more active in stocking, and orders have increased. The overall price was the same as last week or rose slightly. The receiving price is about 2200-2400 US dollars/ton, Vietnam 16000 dong/kg and South Korea dry and wet pupae are 1500 US dollars/ton.
Downstream terminal traditional wholesale markets, silk wholesale markets like Hangzhou, Zhejiang and other places have opened up and have entered a busy season, and secondary wholesalers such as Shandong and Liaoning have been actively looking for goods. Beginning this week, companies of various types of silk underwear, silk quilts, silk scarves and other major commodities have successively announced that their prices will increase.
SunSirs analysts believe that in the future, the silkworm chrysalis market will be on the market in Yizhou until mid-April, and the price of silkworm chrysalis will be firmer due to the rise in commodities including cocoon silk. However, as the prices of raw materials continue to rise, downstream companies have become more cautious in purchasing intentions. Most companies choose to wait until the market has stabilized before proceeding with raw material procurement, and watch the market cautiously. Inflationary pressure under the superimposed monetary easing policy does not rule out the possibility that in the middle of March-April, the cocoon silk will rise sharply before the listing of the new year and then adjust to the downward trend. Therefore, it needs to be treated with caution. At the same time, as the weather gets warmer, in the fast order season of all kinds of silk garments, it is still necessary to pay more attention to the order volume in the later period.
If you have any questions, please feel free to contact SunSirs with support@sunsirs.com.
Agricultural & sideline products