SunSirs: Downstream is the Cautious, Chinese Spandex Prices Drop Slightly
March 13 2020 09:10:50&nbsp&nbsp&nbsp&nbsp&nbspSunSirs (Linda)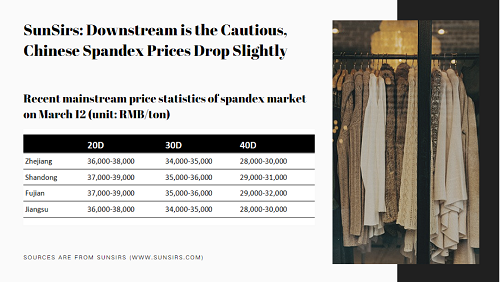 According to the price monitoring of the SunSirs, the domestic spandex market prices have declined slightly since March, of which the market average price of 40D specification as of March 12 was 31,900RMB/ton, down 0.31% compared with the beginning of the month, down 12.36% year on year.
Recent mainstream price statistics of spandex market (unit: RMB/ton)

The market focus of raw material PTMEG is slowly rising, the main offer is relatively firm, and there is little room for negotiation on the actual single price. The mainstream price of 1,800 molecular weight goods source is 15,000-15,500 RMB/ton, and the actual single price is 14,200-15,200 RMB/ton. There is little discussion below the low end. The price of pure MDI is weak at the low price, the trading is light, and the negotiation continues to be low under the shipping pressure. The price in South China is 148,00-15,300 RMB/ton telegraphic transfer barrels, and in East China is 14,800-15,300 RMB/ton telegraphic transfer barrels.The domestic spandex market was stable, 80% of spandex industry starts, maintaining a high level, and the supply of manufacturers is stable. The downstream terminal market has gradually improved to start construction, but the demand follow-up is still slow, and the on-site wait-and-see atmosphere is strong. At present, 36,000-38,000 RMB/ton is the reference for mainstream negotiation of 20D spandex in Jiangsu and Zhejiang; 34,000-35,000 RMB/ton is the reference for mainstream negotiation of 30D spandex; 28,000-30,000 RMB/ton is the reference for mainstream negotiation of 40D spandex, and the actual transaction details are discussed.
Recent changes of PTMEG plants in China
According to analysts of SunSirs, the current trend of spandex market is weak, the supply is sufficient, the cost side is good and the support is insufficient, the actual demand of the downstream terminal market is generally followed up, the overall market continues to purchase just needed, and the spandex market is expected to maintain stable in the short term.With the return of employees, the start-up of textile enterprises has gradually recovered, and the start-up of the warp knitting Market in Haining, Zhejiang Province has been maintained at about 40%; the start-up level in Zhangjiagang, Jiangsu Province has been raised to around 70%, and the yarn wrapping Market in Wujiang has been slightly increased, with the start-up level at 60-70%. The actual demand for raw materials is weak, and the main thing is to wait and see carefully.
If you have any questions, please feel free to contact SunSirs with support@sunsirs.com.
Agricultural & sideline products