SunSirs: Wheat Price Was Stable but Weak On December
January 03 2020 09:36:00&nbsp&nbsp&nbsp&nbsp&nbspSunSirs (Daisy)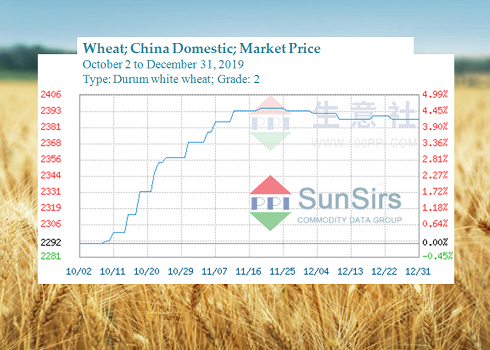 1. Price Trend (see 3-month price)
According to data from SunSirs, the domestic wheat market price in December was generally stable and weak. The average price was 2,394.00 RMB / ton on December 1, and the average price was 2,388.00 RMB / ton on December 31. The overall price fell slightly by 0.25% during the month.
2. Market Analysis (see historical analysis)
In December, the auction of the state reserve of wheat ran normally, and the auction transaction rate remained at a low level as a whole. And it showed a slight downward trend. The policy supported the domestic wheat market price to a certain extent.
Affected by the frequent rain and snow weather, the arrival of wheat by manufacturers has declined. Some manufacturers have slightly increased the purchase price of wheat, which has led to a slight increase in wheat prices.
As manufacturers' stocks have been replenished and the purchase price has been reduced again, the overall domestic wheat market price has fluctuated slightly. Forward.
Data: The lowest bidding price on December 31, the national temporary storage, and inter-provincial wheat transfer auction results: planned to trade 30,970,83 tons of wheat, 57,849 tons at 1.86%, the highest price of 2,370 RMB / ton, the lowest price of 1,700 RMB / ton, the average transaction price is 2,183 RMB / ton.
3. Market Forecasting
SunSirs analysts of wheat analysts believe that: near the end of the year, there is a dwindling supply of grassroots food. Policy wheat continues to go out of stock. Flour terminal demand is not busy in the peak season. Manufacturers are cautious in overall purchases, and a long-short game. The market price of wheat will move slightly ahead of current levels.
If you have any questions, please feel free to contact SunSirs with support@sunsirs.com
Agricultural & sideline products