SunSirs: The operating rate is not High after the year, and the price of silicomanganese is higher
February 05 2020 10:21:54&nbsp&nbsp&nbsp&nbsp&nbspSunSirs (Molly)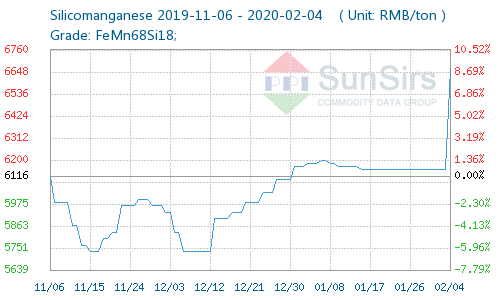 According to the monitoring of the price data of SunSirs, the average price of manganese silicon FeMn68Si18 Ningxia ex-factory price was about 6,200 yuan / ton the previous week. After the holiday, the price of manganese silicon was about 6650 yuan / ton, an increase of 7.26%.
After the holiday, due to the epidemic situation, the number of transport vehicles decreased, manganese ore and alloys were difficult to ship, and train transportation was also restricted. Many manufacturers were expected to reduce the operating rate due to insufficient manganese ore inventory. Some enterprises entered a state of production suspension or reduction years ago, and there were not many enterprises in stock.
The new round of manganese-silicon bidding in some steel mills has started one after another, and the overall inquiry and procurement atmosphere has significantly improved. The southern steel mills have tendered 7200-7500 yuan / ton (accepted to the factory price). Tons, an increase of 600 yuan / ton from last month. Supported by various favorable information, the recent manganese-silicon market has improved, and the price has increased significantly compared with the pre-holiday price.
If you have any questions, please feel free to contact SunSirs with support@sunsirs.com.
Agricultural & sideline products